Today many of us celebrate our "Good Friday" — our "Great and Holy Friday." It is a day for silent reverence of Christ who died on the cross. All input, and output—except the scripture we hear and the hymns we sing during many hours in the church—are today brought to a minimum. So it's strange that someone like me, who is so slow at social media (and at updating this blog) finds himself posting on this day.
But this day is the embodiment of one of our main themes here, at "How to Be a Sinner:" the limitless compassion of God. "As far as the East is from the West, …as far as the Heavens are from the Earth," we are told (in Ps 103), so far he distances us from our failings. Thinking of the spans of Heaven-Earth, East-West—we have drawn the greatest cross imaginable.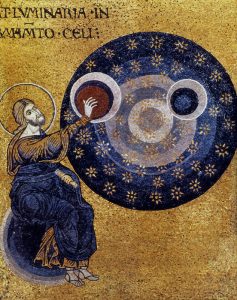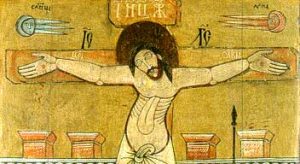 The one who creates the heavens and the earth, the east and the west, is crucified among them, standing between us—his beloved—and everything that distorts our true being.
As if this cosmic dimension of the cross isn't enough, the point — that God is merciful and loving — is driven home today by how Christ insists on saving the very people who insist on killing him.
It is true that, in its outrage at how the Temple priests plotted Christ's death, some of our Holy Week hymnography vilifies "the Jews." It is entirely appropriate, in our day and age, to be alarmed at this antisemitic phrasing, and to consider how to redress it. Yet in another mode of hymnographic wisdom, we sing about the exact opposite: about how Christ begs God to forgive those who seek his death. That, after all, is what the gospels record him as doing.
In one beautiful Holy Friday hymn we take note how Christ actively prohibits the condemnation of those who sent him to his death:
When You ascended the Cross, Lord,
fear and trembling fell upon creation.
Yet You forbade the earth to swallow up those who crucified You,
and You commanded hell to send up its captives
for the regeneration of mortals.
Judge of the living and the dead,
You have come to grant life, not death.
O Lover of mankind, glory to You!
This is what Christ is about, and therefore what God is about: not condemnation but forgiveness, not death but life. And this is because he is about love, not hate. And he proves this with the ultimate sacrifice: submitting himself to death at the hands of his cherished, beloved human beings. And loving them into heaven.
These are good things to remember, when we ourselves feel that we are beyond forgiveness. We most emphatically are not, given who God is, as he shows us today with his arms stretched out in the widest embrace imaginable.