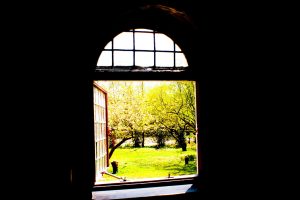 "How to be a sinner" isn't advice on how to sin better. It's a series of compassionate reflections on what it actually means to identify myself as a sinner, and to do so in a healthy way. Because how I identify myself is important, and the "sinner identity" can potentially be a problem: Is "wrong" at the core of my very being? What does it do to me, to be seen constantly as falling short? Isn't there a good kind of self-love and self-care?
The claim of so much scripture and prayer is amazing: owning the "sinner identity" is a key component of a healthy life; it's part of self-care; it's part of my salvation. "How to be a sinner" aims to steer towards a healthy self-regard, and towards surrender to the endless love and mercy of God, who saves us precisely through and within our brokenness. "There is a crack in everything. That's how the light gets in."
About me: I've been teaching theology, spirituality, and the arts for more than twenty years.
With my wife Patricia we have two flourishing children in their twenties.
A life-long musician, I'm a jazz bassist and I play out at least once a week. I conduct my parish choir.
I also lead the Arvo Pärt Project and the Institute of Sacred Arts.
I've been trying to work out this "sinner" thing, reflecting, writing, and speaking about it for several years now. Every time I've given a retreat on this theme, the reaction is uncommonly powerful. So I wrote the book, and by now I've given dozens of talks and retreats around the world. Crazy world.
See my personal website at peterbouteneff.com.